Media releases
'Place of Belonging' creates culturally safe space for staff, students, and community
Posted: Tuesday 13 September 2022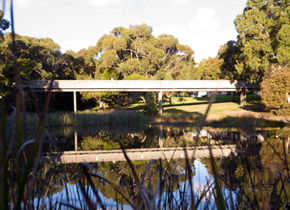 Taur-a (Place of Belonging) is to be launched tomorrow at Federation University Australia's Mt Helen Campus, as part of the Aboriginal Education Centre's (AEC) mission to create culturally safe spaces for Aboriginal and Torres Strait Islander staff and students.
Taur-a will enable students, staff, and the wider community to learn, reflect and celebrate Aboriginal and Torres Strait Islander peoples' connection to country.
The design and development of the space has been undertaken in consultation with local traditional owners and community leaders and endorsed by Federation University.
The site features a custom-made firepit designed by local Yorta Yorta and Barkindji artist Billy Blackall. The steel artwork that encloses the firepit features Lake Wendouree and Yarrowee Creek including motifs of a kangaroo, swan, goanna, platypus, and people coming together.
The design of Taur-a represents the symbol for people, and following the launch of Stage 1, Taur-a will have additional features added each year, including the planting of traditional foods and bush medicines.
'Places of Being' are also being established at Federation campuses in Berwick, Wimmera and Gippsland, along with other actions including dual naming of Federation buildings, art acquisitions and merchandise, all of which celebrate local Indigenous artists.
The launch of Taur-a at Federation's Mt Helen Campus on Wednesday 14 September from 4:00pm to 6:00pm and will feature a smoking ceremony and Welcome to Country performed by Traditional Wadawurrung Custodian Barry Gilson.
Quotes attributable to Federation University Vice-Chancellor and Professor, Duncan Bentley
"The 'Place of Being Projects' are result of a partnership with the Aboriginal Education Centre and local communities to break down barriers of isolation for Aboriginal and Torres strait Islander staff, students and wider community and for all to have a spiritual connection to country."
"This amazing space, on our campus, is a central place to bring community together to celebrate the rich culture of Aboriginal and Torres Strait Islander peoples."
Quotes attributable to Federation University Aboriginal Education Centre Manager, Katrina Beer
"Taur-a is an important place that creates a sense of belonging, we have students and staff who come from many different Aboriginal and Torres Strait Islander communities who need a culturally safe place to connect spiritually like a home away from home."
Quote attributable to Cultural Advisory Group member and Yorta Yorta Woman Suzie Coates
"Country gives and tells us everything. It is at the heart of our spirit and identities as mob."
"It's a privilege to be one of the community members invited by the Aboriginal Education Centre to design Taur-a, a welcoming place centred on connection and Country."
Quotes attributable to Federation University Student, Abagail Valentine Rawlins
"Having a cultural space on University campus is very important to me as it means I can have a place to remember where I've come from and where I'm going when I feel disconnected."