Media releases
Federation launches Australia's first hybrid TAFE and university degree
Posted: Friday 3 September 2021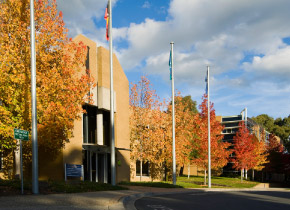 Federation University is launching an Australian-first degree in food sustainability that combines practical TAFE skills training with the critical thinking and analysis skills of a university degree.
The new Bachelor of Sustainable Food Systems has been designed with significant industry consultation to equip students with the skills to improve food production and tackle food sustainability issues in Australia and internationally.
The new undergraduate degree is the first of its kind in Australia as it allows students to graduate with dual qualifications – both a TAFE qualification and a higher education degree studied as an integrated degree.
The first half of the degree embeds a Diploma of Food Science and Technology to develop student's knowledge and core practical skills across food testing, quality and sustainability.
For the second half of the degree, students will focus on either food processing or sustainable food production and gain valuable workplace experience through an industry placement.
Working closely with industry professionals in the region, students will understand how to solve problems with local sustainability, which in turn will help address a global problem.
As one of only a handful of dual sector providers in Australia, Federation is uniquely placed to develop this new style of hybrid degree that meets the needs of both students and employers.
Making sure students graduate into full-time jobs with the skills employer's need is a key focus for Federation, which is ranked the number one university in Victoria for undergraduate employment in the Good Universities Guide 2022.
Graduates of the new Bachelor of Sustainable Food Systems can expect to work in food safety, product research and development, regulatory affairs and quality assurance, and contribute to activities which promote a circular economy.
The degree will be offered from 2022 at Federation University's Ballarat and Gippsland campuses, as well as online to give students flexible study options. For more information or to apply, visit: https://study.federation.edu.au/course/DFS5
Quotes attributable to Federation University Pro Vice-Chancellor (Vocational Education and Training) and CEO TAFE, Liam Sloan
"This is the first degree of its kind in Australia and offers a blended learning mode of knowledge and practical skills that points to the future of higher education."
"We listened to industry partners about what skills and values they needed in employees. With their input, we designed a program that gives our students the best possible chance being work ready as soon as they graduate and pursuing meaningful careers."
"We expect our graduates will drive change and innovation across the food industry. They will gain the knowledge and skills required to feed a growing population, and to do so through in the most ecologically sustainable and financially sound way."
Quotes attributable to Dean of School of Science, Psychology and Sport, Dara Twomey
"The question of how we continue to produce food that is safe, nutritious and sustainable to meet our growing population is one of the most challenging of our time. Our graduates will learn the knowledge and skills needed to address this problem and contribute to sustainable food systems."
"Our graduates will be able to examine food systems from a range of perspectives – scientific, environmental, economic and ethical – allowing them to understand how sustainability can be achieved."