Media releases
Federation University ends 2020 financially sound despite COVID
Posted: Wednesday 5 May 2021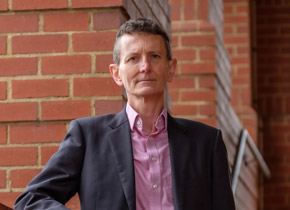 Federation University Australia ended 2020 with a positive balance sheet and whole new approach to student learning, overcoming the challenge of the COVID-19 pandemic.
Federation University's Vice-Chancellor, Professor Duncan Bentley joined the university in the middle of Victoria's second lockdown and said prudent and collaborative financial and organisational management had helped to calm the COVID storm and its impact on Federation's performance.
Federation's 2020 Annual Report was tabled in the Victorian Parliament today showing a net operating surplus for the university and its subsidiaries of $3.9 million. While this was considerably lower than the 2019 surplus of $36.7 million - with international students no longer able to travel to Australia – it was a much better financial outcome than initially predicted when the pandemic began.
Federation is in a strong position to rebuild in 2021-22 and beyond, making a material contribution to access and participation, skills, education and jobs, and economic growth in the regions it serves.
The university will continue to use its significant footprint in its regions to build university towns and technology parks that push economic growth and jobs and from 2021 to 2025 the university will be focused on developing significant community partnerships and collaborations to drive ongoing success.
The Annual Report outlined other major achievements in 2020, including:
Detailed analysis of the way Federation transformed its educational delivery and upskilled its teaching staff to embrace the new world of online learning
Significant improvements in environmental performance due to working from home and more flexible arrangements for employees
Turnover of $8.94 million in research and innovation grants for major research projects to create impactful, real-world solutions
Support to assist our most vulnerable students and international students to overcome the financial challenges of COVID-19, via the Federation Foundation
Major awards and achievements by our staff, Schools and Federation TAFE.
The report also provided a snapshot of Federation's new Strategic Plan 2021 – 2025, launched with staff in December 2020 and to be officially presented to the community mid-year 2021.
Federation University's rankings continue to place it as one of the highest ranked regional universities in Australia.
Federation recently ranked in the top 200 globally for the Times Higher Education (THE) World University Rankings Sustainable Development Goals impact, peaking at Number 35 in the world for Gender Equity.
This builds on the university's earlier THE success, with Education ranked in the top two per cent of all higher education institutions worldwide, and clinical and health, social sciences, and business and economics in the top three per cent – and our Federation sports science discipline ranked in the top 100 institutions worldwide in the 2020 Global Ranking of Sport Science by the Academic Ranking of World Universities (ARWU).
Professor Bentley said it was a credit to the university community, staff and leadership that these significant results had been delivered in the face of such substantial disruption in 2020.
The Annual Report is available at: https://federation.edu.au/staff/governance/plans-publications-policies/organisational-data
Quotes attributable to Federation University Chancellor Mr Terry Moran AC
"With Victoria stalled by the state's second hard pandemic lockdown, our new Vice-Chancellor saw the resilience of our people first-hand, engaging online with leadership and staff across the university and TAFE to understand and embrace the culture of Federation University Australia."
"Our future vision for Federation University Australia is one of a thriving institution exploring new opportunities in a post-COVID world, emboldened by all that we have learnt from the best part of a year in isolation."
Quotes attributable to Federation University Vice-Chancellor Professor Duncan Bentley
"While 2020 was a momentous year of uncertainty and change for our university it has provided significant opportunity for us as Australia's leading regional university."
"It has been a year in which our staff have shown enormous commitment and fortitude as they worked tirelessly to deliver the best possible experience for our students."
"Post-COVID we will provide education that focuses on the critical skills needed by our society and employers, with in-work experience; develop targeted, world-leading research and innovation that will continue to sustain and transform our regional communities; and engage in wide-ranging partnerships domestically and internationally."