Media releases
Road Nats cycling partnership with Fed Uni strengthened
Posted: Thursday 14 January 2021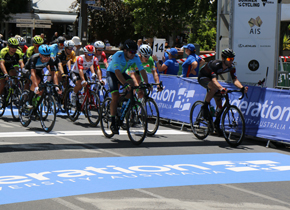 As Ballarat prepares to host the Federation University Road National Championships next month, the University and AusCycling are excited to extend and enhance their cycling partnership through a range of collaborative projects over the next three years.

Federation will host training camps for elite cyclists, run athlete testing and talent identification and work with AusCycling to explore potential education programs with a focus on coaching, as part of a strengthened partnership between the two organisations.

The partnership will provide work placement and internship opportunities with AusCycling for Federation's students across many discipline areas.

It will also foster research opportunities ranging from the elite to recreational levels of the sport.

On 3-7 February, Ballarat will welcome road cyclists from across Australia for the annual Road Nats event, which was officially launched today. For the second year, Federation's Mt Helen Campus will host the time trial, on 3-4 February,

The partnership initiatives will be supported by the University's state-of-the-art health and sports precinct which opened in March 2020, as well as its world-class reputation for sports science programs.

Federation's Sport Science discipline last year jumped into the top 100 of the Global Ranking of Sport Science schools and departments as assessed by the Academic Ranking of World Universities (ARWU).

The University's sports-related educational experiences include exercise and sport science; clinical exercise physiology; strength and conditioning; sport management; and from 2021, international sport management via a new bachelor's degree presented in partnership with the World Academy of Sport.
Quotes attributable to Federation University Vice-Chancellor and President, Professor Duncan Bentley
"The Road Nats is an annual highlight for the Ballarat region. We are so proud to support this fantastic event and once again host the time trial at our Mt Helen campus.

"We bring a world-class reputation for sport science to our partnership with AusCycling and look forward to enhancing this collaboration for the benefit of students, the sport of cycling and the broader community."

"On behalf of our staff and students, I wish the competitors the best of luck for next month's event."
Quotes attributable to AusCycling Acting Joint CEO Steve Drake
"We are proud to continue our partnership with Federation University for the Road National Championships."
"The partnership is a perfect fit with both the Championships and the University renowned for world-class performance."
"We look forward to seeing this relationship continue to grow for years to come."