Media releases
Federation University welcomes all to Open Day
Posted: Friday 23 August 2019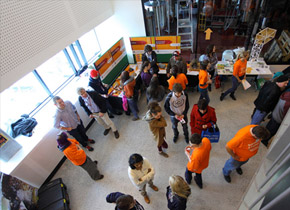 Federation University Australia will throw open its doors on Sunday, 25 August, as it welcomes thousands of prospective students and their families to the 2019 Open Day.
To be held from 10:00am to 2:00pm at the Ballarat, Gippsland and Berwick campuses, Open Day is the premiere day of the year for the public to visit Federation University and learn more about their exciting study opportunities and industry experience programs. The day will include information sessions, guided tours, entertainment, food and accommodation information.
Visitors to the Ballarat campuses can enjoy a tour of the Arts Academy in Camp Street. Music theatre sensation Josh Piterman, who recently landed the title role in The Phantom of the Opera on the West End, graduated from the Arts Academy in 2006.
Federation University will also host an engaging panel discussion at the Mt Helen campus from 12:45pm. The discussion will be the first in a series of talks centred on education. Future discussions will include Bullying - how to cope, Helicopter parenting, How to make your child ready to learn, Building resilience in children and How to make your child street smart.
MasterChef Semi-Finalist and Federation University Alumnus Tim Bone will visit the Mt Helen campus and hold cooking demonstrations from 11:00am.
Federation University's new state-of-the-art Sports Science facility will be open for viewing for the first time on Open Day. The new centre features an indoor sports stadium, health and clinical exercise centre, community gym, new labs and teaching spaces with the latest technology including virtual anatomy tables.
As part of Federation University's commitment to specialised training, the new centre will equip our sport and exercise science, sport management, clinical exercise physiology and strength and conditioning students with practical skills in readiness for employment.
Federation University is also rated #1 in Victoria for student support for its programs including the FedReady preparation program, Student Mentor and ASK desk.
Federation University is rated Australia's #1 university for graduate employability.
Quotes attributable to Vice-Chancellor and President, Professor Helen Bartlett
"We look forward to welcoming future students, their families and friends to our campuses on Open Day. At Federation University, we are committed to providing the best support possible for our students to achieve their career goals and I encourage visitors to discover more about our highly regarded support programs at Open Day."
"We are one of Australia's oldest universities, we have the experience, yet we are modern and progressive in everything we do."
"We are proud to create job-ready graduates. We rate consistently highly nationally for employability – so our graduates have the best start possible to their careers."
Quotes attributable to Federation University Alumni Tim Bone
"I formed some lifelong friendships while living on campus and I will always be grateful to the staff who were all very helpful and welcoming during my university days."
"I'm excited to be able to give back and come and meet the university community, while sharing two of my recipes. I will also be available for a Q&A session and photo opportunities."