Media releases
Support for Ballarat and Wimmera TAFE students
Posted: Tuesday 6 August 2019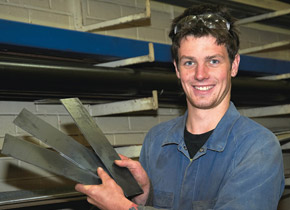 Ballarat and Wimmera students at FedUni TAFE will benefit from even greater support to finish their qualifications and find a job, thanks to a Victorian Government funding boost to Free TAFE courses.
Member for Buninyong Michaela Settle met students and staff at the Ballarat campus to announce an $11.7 million funding boost to support Free TAFE courses statewide.
FedUni TAFE will share in this funding, which will provide more support services for students.
The funding will also allow FedUni TAFE to offer a number of teaching scholarships to local professionals with industry experience, helping to deliver more courses and meet the strong demand from local industry for skilled workers.
FedUni TAFE has around 800 students studying 23 Free TAFE courses, with almost 5,000 students enrolled in TAFE programs in Ballarat and the Wimmera.
Free TAFE courses offered at FedUni TAFE include nursing, community services, plumbing, building and construction, engineering studies, horticulture, commercial cookery, agriculture and cyber security.
Quotes attributable to Deputy Vice-Chancellor (Academic), Professor Andy Smith
"Making sure our students have the support they need to gain their qualification and the job they want is one of our biggest priorities - this extra funding will help us to do that."
"We work closely with local industry to meet the demand in Ballarat and western Victorian for skilled workers, and free TAFE is helping achieve that."
---