Media releases
University celebrates health and safety research
Posted: Thursday 25 July 2019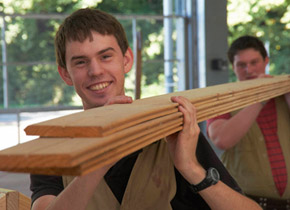 Mental health and wellbeing in the workplace will be the focus of a research symposium at Federation University Australia, with Chair of the National Mental Health Commission, Lucinda Brogden, to deliver the key note address.
The event will be held at the Mt Helen campus on Friday 26 July to mark the fortieth anniversary of the university's Victorian Institute of Occupational Safety and Health (VIOSH).
The theme of the symposium is 'From Energy Models to Mental Health and Well-being: The Contemporary and Future Workplace'.
The program will focus on mental health, well-being and other psychosocial issues, including aggression, in diverse workplaces such as health and policing.
Other speakers include Dean of the School of Nursing and Healthcare Professions, Professor Wendy Cross, and Director of Work Safe Victoria's High Risk Dangerous Goods Taskforce, Michael Eather.
The event will also feature a panel discussion between National Mental Health Commissioner, Professor Wendy Cross, Western Alliance Executive Director Professor Warren Payne, and Head of Operations & Emergency Management for WorkSafe Victoria, Mr Adam Watson.
Quotes attributable to Dean of the School of Nursing and Healthcare Professions, Professor Wendy Cross:
"The growth in occupational health and safety measures over the past forty years has been substantial. The University's VIOSH has played a significant role in training experts in occupational health and researching and furthering the implementation of OH&S nationally."
"Our research symposium will build on these advances and lead discussion on the challenges and opportunities ahead for the OH&S sector."
"The symposium is timely as government and industry are aiming to improve occupational and safety."
"The Australian Work Health and Safety Strategy is working towards a reduction in the number of work fatalities due to injury of at least 20 per cent, as well as a 30 per cent reduction in the number of claims resulting in one or more weeks off work."