Media releases
Azeem leads the way as Study Brisbane Ambassador
Posted: Monday 22 July 2019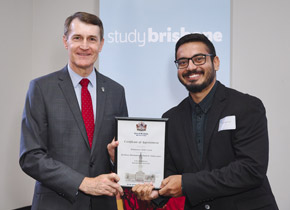 Azeem Mohammed didn't appreciate how stunning Brisbane was until he arrived in Australia.
Originally from Hyderabad in India, Azeem already has taken over 2500 photos of the city during his walks around Brisbane.
A Master of Technology (Enterprise Systems and Business Analytics) student at Federation University Australia's Brisbane campus, Azeem has turned his passion for the city into becoming a Study Brisbane Ambassador.
The Ambassador program adopts students from all over the world to tell their real-life Brisbane stories through social media. In 2019, 40 students, including Azeem, have been formally appointed.
The students have come together for a series of events including visits to local beaches, wildlife parks, connecting with indigenous culture and Brisbane sight-seeing tours.
Quotes attributable to student Azeem Mohammed:
"The University is a friendly and welcoming place for international students. All of the staff have been exceptionally supportive and the Brisbane campus is a friendly and welcoming place for international students."
"I applied to become an Ambassador to be part of something bigger and to support international students while experiencing Brisbane culture first hand. If I can share my student life with those thinking about studying abroad, then I hope they realise what a great place Brisbane is to live."
"I've been introduced to so many new people and developed strong friendships with fellow Ambassadors from Indonesia, Russia, USA, Saudi Arabia and more."
"Brisbane has so many events and activities for everyone so it's easy to feel part of something. I really want to volunteer as much as possible to give back to the community."
Quotes attributable to Executive Director of the Brisbane campus, Alex Elibank Murray:
"Azeem is an exceptional student and has quickly embedded himself in Brisbane and on the campus. He has become a great ambassador for the University as well as for Brisbane due to his ability to make connections both on and off campus".
"Azeem is a keen volunteer and has lent a hand at a variety of city events including the Lord Mayor's Student Friendship Ceremony where he extended a warm welcome to all international students."
"The skills and connections he is making as part of the program will assist to boost his employability after graduation."