Media releases
Inspiring 9/11 speaker comes to Ballarat
Posted: Friday 12 July 2019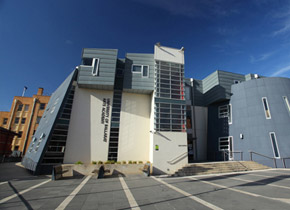 Ballarat has an opportunity to hear first-hand about an inspiring story coming out of the tragedy of the September 11 terror attacks in the United States in 2001.
Compassionate Ballarat and Federation University Australia's Arts Academy are hosting Kevin Tuerff, the author of Stranded in Gander on 9/11.
Set in the week following the September 11 attacks, the book focuses on what transpired when 38 planes were ordered to land unexpectedly in the small town of Gander in Newfoundland, Canada, leaving thousands of passengers stranded.
Although initially cultures clashed and nerves ran high, in the end uneasiness turned into trust and gratitude grew into enduring friendships.
The book inspired an onstage character in the Tony award-winning musical Come From Away and eight years on this story still has relevance for us all.
In addition to being a published writer, Kevin is also a social entrepreneur with 25 years of experience in behaviour change communications with local, state and federal governments.
During his presentation at Federation University's Arts Academy, Kevin Tuerff will talk extensively about his book and the extraordinary events at Gander.
Kevin Tuerff is a co-founder of America Recycles Day, which is now managed by Keep America Beautiful.
The presentation will be held from 12:30 to 1:30 pm, Monday, 15 July, at the Helen McPherson Smith Theatre, Arts Academy, Lydiard Street North.
Quotes attributable to Adjunct Research Fellow, Dr Lynne Reeder:
"Kevin is a Compassion Ambassador and senior consultant to the global Charter for Compassion, and in this role he has agreed to come to Ballarat to give this talk."
Quotes attributable to Director of the Arts Academy, Associate Professor Rick Chew:
"Besides the epic tale of warmth, compassion, and the kindness of strangers in a strange place, this lecture also provides those interested in the arts with access to learn about a very successful Broadway production."