Media releases
University supporting Brisbane startup interns
Posted: Monday 8 July 2019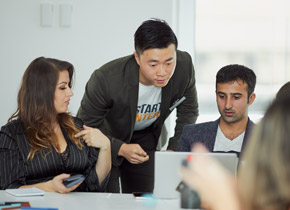 Federation University Australia's Brisbane students will soon be connected to Queensland's tech startups and scale-ups through a new Student Employability Accelerator Program (SEAP).
Launched on Federation University's Brisbane campus this week, SEAP aims to empower international students' employability and entrepreneurial mindset through a five week curricular program including a series of modules and the opportunity to work on real-life projects.
SEAP provides:
A series of six free online modules to enhance students' understanding of the startup ecosystem and to assist build their employability skills and;
An opportunity to undertake an experiential project for startup enthusiasts, entrepreneurs and innovators to help students be job-ready.
This project was designed by two Queensland international students from Startup Interns and has been supported by academics, employability specialists and entrepreneurs from partnered education institutions and the industry.
The program is co-funded by the $6 million International Education and Training Partnership Fund, which is an initiative of the Queensland Government's $25.3 million International Education and Training Strategy to Advance Queensland.
The University's Brisbane Campus is collaborating with Startup Interns to lead the project in partnership with TAFE Queensland and UQ Idea Hub. As part of the program, students are able to work with Brisbane startups including River City Labs, Vygo and TravelbyBit.
Quotes attributable to Executive Director of the Brisbane campus, Alex Elibank Murray:
"The six online modules are short and concise offering students a base from which to explore employability and entrepreneurial concepts. As students complete the modules they will learn about key start up opportunities in Queensland and how to apply to the Startup Work Experience Project."
"It is a unique program providing students with an opportunity to work as part of a student team on a solution for a real life startup company challenge."
"This project is providing yet another opportunity for our Brisbane Campus students to engage with real life industry problems and create solutions that with help them build the skills and connections they need beyond their degree."