Media releases
Celebrating National Volunteers Week
Posted: Friday 24 May 2019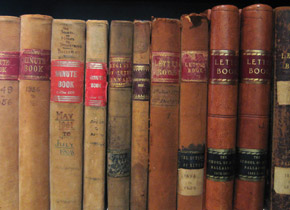 From creating a Eureka Mapping site to locating the correct site of the Eureka Stockade to cataloguing photographs that tell the history of Ballarat – the work of the dedicated volunteers at Federation University Australia's libraries will be acknowledged this week as part of National Volunteer Week celebrations.
For almost 20 years, volunteers have given their time to help research and document the many significant items in the University's Art and Historical Collection.
The theme for National Volunteer Week 2019 – Making A World Of Difference - sums up the contribution made by our volunteers who collectively contribute between 30-50 volunteer hours each week in the Geoffrey Blainey Research Centre.
The value of this work was recognised with a Victorian Museums Award for Excellence in Cataloguing in 2013 and 2016.
A morning tea will be held at the University's Mt Helen campus library at 10:00 am on Friday, 24 May to thank our volunteers and showcase the work they have done on the University's Art and Historical Collection, which dates back to 1869.
This will include work on the Ballarat and District Industrial Heritage Wiki, which was established nine years ago for the University's 140th anniversary and reached 20 million views this year.
The FedUni online photo catalogue and Industrial Heritage Wiki can be accessed via www.federation.edu.au/curator
Quotes attributable to Director of Library and Learning Spaces, Sue Owen:
"Not only do the University's historical collections hold an important place in Ballarat's history, the work of our volunteers contributes to the world gaining access to and learning from these significant materials."
Quotes attributable to Curator of the Art and Historical Collection, Clare Gervasoni:
"Our volunteers contribute more than 1,600 hours of assistance each year and this morning tea is an opportunity to thank them and highlight the valuable work they do, including the indexing of the first 45 years of Ballarat School of Mines student enrolment records."