Media releases
Diversity of the Otways and Shipwreck Coast explored
Posted: Thursday 16 May 2019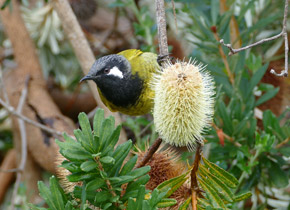 The wildlife of the Otways and Shipwreck Coast is diverse and spectacular with immense conservation value, but is not immune to the damaging effects of fire, climate change and pests, according to a new book by Dr Grant Palmer, an academic at Federation University Australia.
The Otways and Shipwreck Coast are known for their natural beauty and attract millions of visitors each year, particularly along the Great Ocean Road.
Dr Grant Palmer has explored the diverse natural values of the region in his book, Wildlife of the Otways and Shipwreck Coast, published by CSIRO Publishing.
The book features 288 species profiles with a description and information on identification, range, conservation status, habitat use and ecology. There are colour photographs and a detailed distribution map for each species.
The publication also includes chapters on habitat types, conservation and management and 14 key places in the region to view wildlife.
This book will allow those interested in wildlife, including residents and visitors, to identify vertebrate animals found in the region. It also explores the distinct role the Otways has in conserving Australia's biodiversity.
Picture: White-eared Honeyeater
Quotes attributable to Senior Lecturer in Environmental Science, Dr Grant Palmer:
"The value of the region's rich biodiversity is recognised at the national and global level and its wildlife is markedly different to other regions, including eastern Victoria which supports similar vegetation types."
"Wildlife of the Otways and Shipwreck Coast is a photographic field guide to the vertebrate wildlife of Victoria's south-west. It covers all the mammals, birds, reptiles and frogs that occur in the region, including on land and in coastal waters."
"Some species documented in the book may already be locally extinct in the region or precariously close to it. There have been very few recent sightings of Spotted-tailed Quoll, New Holland Mouse or Smoky Mouse despite extensive searching."
"But there are some good news stories. The Eastern Ground Parrot had been considered locally extinct, having no positive sightings for nearly two decades, but recently an individual was observed at a new location. Likewise, recent re-sightings of Swamp Antechinus after long absences from sites are encouraging."