Media releases
University opens Cranbourne library study space
Posted: Friday 10 May 2019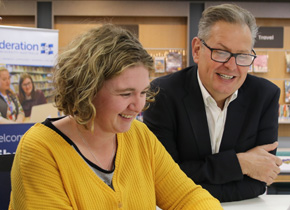 Federation University Australia students, local secondary school students and Cranbourne library visitors are enjoying the benefits of a new library study space to collaborate and learn.
Situated at the Cranbourne branch of Casey Cardinia Libraries, the study space includes a reading lounge, individual study carrels, work spaces, free wi-fi for library members, and access to library facilities including collections, printing and information support.
The study space accommodates individual quiet study and also a variety of group work as many students like to learn with others. Cranbourne library staff are also on hand to assist.
Quotes attributable to Federation University Director of Library and Learning Spaces, Sue Owen:
"Federation University is known for its exemplary student support and consistently rates number one in Victoria in key student experience indicators."
"More than 70 per cent of our Berwick Campus students live in the greater Cranbourne area."
"In providing the Federation University study space here at the Cranbourne library, we're aiming to make it easier for students to find a comfortable, safe, productive place to work that's located a bit closer to home."
"The University is delighted to work with Casey Cardinia Libraries and build further links between the two organisations."
Quotes attributable to Chief Executive Officer of Casey Cardinia Libraries, Chris Buckingham:
"The partnership between Federation University and CCL is delivering tangible outcomes for the community that will improve opportunities for lifelong learning."
"We are grateful to the University for their ongoing support and look forward to fitting more CCL branches out with dedicated study spaces over the next 18 months."