Media releases
FedUni professors bringing their work to the pub
Posted: Wednesday 17 April 2019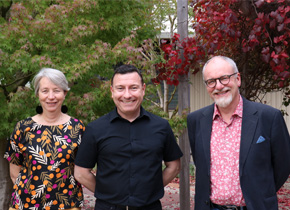 Federation University Australia professors are breaking down barriers to make their research more accessible to the local community through the new Professor in a Pub series of public lectures.
The Space in Between event at the Latrobe Regional Gallery in Morwell brought together an artist, a composer and sociologist to explore the concept of space.
Presenters and their topics included:
Associate Professor Carole Wilson - Field Notes: An Investigation of Place
Carole spoke about her career as a visual artist. She uses atlas and map pieces to evoke a sense of time and place. Her recent work has focused on the architecture and culture of Penang in Malaysia.
Associate Professor Rick Chew - The Last Of England: Reimagining Ford Madox Brown's Painting as a Work For Solo Piano
Rick expanded on this famous painting from 1855 which depicts a couple and their baby leaving England to start a new life in Australia, and how the intent of the painting can be expressed through piano.
Professor Andrew Hope - Tetris Effect: the Video Game as Heterotopian Art
The Tetris Effect is when someone devotes so much time to something it affects their thoughts and sub-conscious. Andrew spoke about that as well as the art of displacement and otherness.
Picture: Professor Carole Wilson, Professor Andrew Hope, Professor Rick Chew
Quotes attributable to Dean of the School of Arts, Professor Andrew Hope:
"The Professor in the Pub events are a fun and free way for people to find out about the fascinating and important work our academics do."
"The events aren't always in a pub – this one is in a gallery – but we chose the name following on from the tradition of Politics in the Pub, which is about getting people together to talk about big ideas in a relaxed and informal setting."
"We are all so busy in our everyday lives and we don't often stop to think about the time, place and space we occupy or why we think the way we do – this lecture explores these ideas in a way that everyone can relate to."