Media releases
Christmas in July lunches returning to FedUni
Posted: Thursday 2 August 2018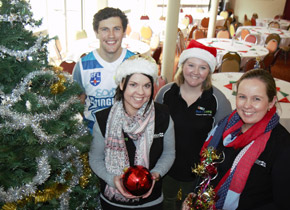 Federation University Australia's popular Christmas in July and August fundraising events are being held over several campuses once again this year.
The first two events in a series of four were held at the Mt Helen Campus on Monday 30 and Tuesday 31 July with around 500 students in attendance.
On Tuesday, 7 August, a lunch will be held which will include staff, students and the wider Ballarat community raising much-needed funds for the 3BA Christmas in July Appeal.
"The Christmas in July and August functions are a major highlight of the University calendar and we are delighted to have such strong engagement from the Ballarat community, both in terms of ticket sales and businesses donating goods and services for our auction," Colin Marshall, Director of Campus Life, said.
"We look forward to hosting as many people as possible throughout the week and raising as much money as possible for our very deserving charities.
"Thinking about FedUni's partnership with 3BA over the years, I would like to acknowledge Peter Caligari, who has stepped down from his role as Director of the 3BA Christmas in July Appeal. Peter has done an extraordinary job over many years."
More than 200 staff members are expected to attend the Mt Helen gala lunch. Raffles, spot prizes and a live auction will be hosted by popular 3BA radio personality Paul Taylor.
Many local businesses including Jenny Burke Florist, Oscars Hotel, Ballarat Books, Basketball Ballarat, PFD Food Services, Red Lion Hotel, Ballarat Turf Club, Hip Pocket Workwear and Safety, Wen & Ware, and Peaches Fruit Market, have donated items for the lunch.
Major auction items include a Webber barbecue donated by The Good Guys, ladies and men's bikes from Dennis Shaw Cycling Centre and a 2018 Western Bulldogs signed guernsey.
A student, staff and community dinner also will be held at the Gippsland Campus on Wednesday 8 August to raise funds for the local CFA.
Tickets are available to the public via the following link - FedUni Online Store