Media releases
Through My Eyes, In Your Shoes
Posted: Friday 6 July 2018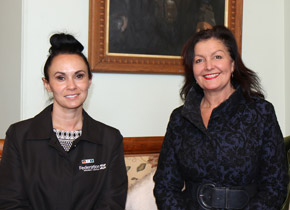 Jasmine Graham, Manager of FedUni's Aboriginal Education Centre shared her cultural perspectives with civic leaders as part of State-wide NAIDOC Week activities.
Ms Graham spent a full day walking in the shoes of the Mayor – attending launches, and discussions with Ballarat community and business representatives and meeting Cr Belinda Coates, a member of the City of Ballarat's Koorie Engagement Advisory Committee (KEAG).
One of the highlights for Ms Graham was having the opportunity to address the Council at its Ordinary Council Meeting at the Town Hall.
Ms Graham, a Wirangu, Barngarla, Kokatha woman from the far West Coast of South Australia, was keen for the Mayor to experience a glimpse of the world through the eyes of an Aboriginal woman, and to share with her the benefits of dual branding of city buildings and rooms, acknowledging the aboriginal culture and heritage of the region.
She was the successful candidate for the 'shadowing the Mayor opportunity' - a new initiative of KEAG.
This year's NAIDOC Week celebrates the theme 'Because of her, we can!' – highlighting the invaluable contributions Aboriginal and Torres Strait Islander women have made, and continue to make, to our community, our families, our rich history and to our nation.
The City of Ballarat is now working on its third Reconciliation Action Plan (RAP) 2018-2020.
Ms Graham, meanwhile, is planning to wear flat shoes on her next round of appointments with the Mayor.