Media releases
Brisbane student appointed ambassador
Posted: Tuesday 3 July 2018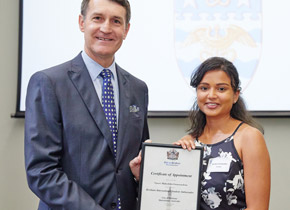 Nipuni Gunawardena is the first FedUni Brisbane student to be appointed to the Brisbane International Student Ambassador Program and the sole representative for her home nation, Sri Lanka.
The program adopts students from a variety of backgrounds to share their study journeys through social media with prospective international students.
Forty-five new students are appointed each year linking their Brisbane stories to home country networks.
"'Being a student ambassador is a new experience for me," Nipuni said.
"The biggest challenge has been to overcome my fear of public speaking, but the experience has encouraged me to interact with people more."
Originating from Kandy, Sri Lanka, Nipuni is in the first year of her Master of Technology (Enterprise Systems and Business Analytics) program at the Brisbane Campus.
"I chose Brisbane because it's more affordable to live than Melbourne and Sydney, it has a more tropical climate, similar to that of Sri Lanka, and there are so many things to do," she said.
"FedUni really attracted me because of the scholarships on offer, the campus location and the University's industry connections."
"I think it's amazing that we do industry placements as part of the degree and I believe it will help me establish my career."
As a student ambassador, Nipuni has already volunteered at city events including the Brisbane City Council Lord Mayor Welcome Ceremony and the Luminous Lantern Parade hosted by Multicultural Development Australia (MDA).