Media releases
FedUni students excel at WorldSkills competition
Posted: Thursday 7 June 2018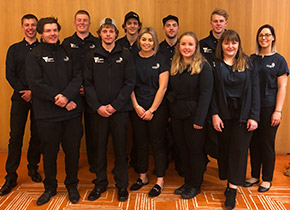 Federation University Australia TAFE students have been awarded three medals in the national WorldSkills competition held in Sydney this month.
"Once again, our FedUni students have performed particularly well at this year's national championships," Associate Professor Barry Wight, Executive Director of FedUni TAFE, said.
"Two of our students were awarded a Gold Medal – Zac Biggin for Fitting and Hayley Kellett for Retail Baking Bread. Both students are from the Wimmera Campus.
"In addition, Paul Coon was awarded a Bronze Medal for Bricklaying," Associate Professor Wright said.
"The University's continued success in these competitions is testimony to our dedicated teaching staff, the hard work and dedication of our students, as well as the commitment and guidance of our students' employers."
WorldSkills is a skills-based competition operating at regional, national and international levels. It is aligned to National Training Packages, Apprenticeships Australia and Jobs Australia schemes.
The WorldSkills National Championship is Australia's biggest vocational education and excellence competition.
Picture: FedUni WorldSkills students