Media releases
Elders visit Wayn-Gurr Derrk FedUni Bush Tucker Garden
Posted: Monday 21 May 2018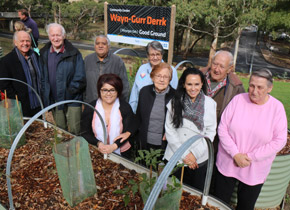 Federation University Australia was pleased to welcome the local Ballarat Aboriginal Elders to the Wayn-Gurr Derrk Bush Tucker Community Gardens at the Mt Helen Campus.
The Elders visited on Friday 18 May for a picnic lunch in the gardens. The visit was hosted by FedUni Living and the Aboriginal Education Centre (AEC) for the Ballarat and District Aboriginal Cooperative as a part of the Elders Home and Community Care (HACC) program monthly outings.
The Wayn-Gurr Derrk (Wadawurrung language 'Good Ground') Bush Tucker Community Gardens were recently opened as a collaborative project between Campus Life and the AEC.
"Wayn-Gurr Derrk provides our students in residence, as well as the wider University community, with access and education on local Indigenous food plants, and we are pleased to welcome the Elders for their visit and a picnic amongst the gardens," Colin Marshall, Director of Campus Life, said.
"We have had a lot of interest from various local groups to visit the gardens, and learn about the local Indigenous plants and Aboriginal cultures."
The garden makes an important contribution towards the Federation University Australia Reconciliation Action Plan in supporting and building relationships with our Aboriginal and Torres Strait Islander students and promoting Aboriginal cultures to all students as well as the local community.
Plants in the garden include Black Plum, Small Leaved Tamarind, Lemon Myrtle, and Red Back Ginger, as well as others, providing a selection of herbs and fruits which can serve a variety of uses.
"The Elders' visit provided an opportunity for the University community to meet and greet, as well as for members of the local Aboriginal community to see first hand our amazing gardens project," Jasmine Graham, Manager, Aboriginal Education Centre said.
"Aboriginal cultures are for all Australians to celebrate and feel proud. This is one example of sharing knowledge and working together to increase respect and pride on our journey of reconciliation."
Groups wanting to arrange a visit to the gardens can contact the Campus Life office for further information on 03 5327 9480.