Media releases
University hosts major scholarship ceremonies
Posted: Friday 18 May 2018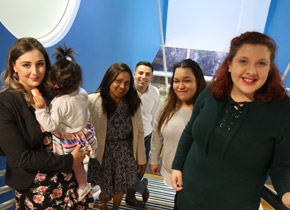 Federation University Australia is presenting up to 150 scholarships to Higher Education and TAFE students throughout its campuses this month.
"These scholarships recognise the excellent standards of our students and their contribution to the region in which they study," Professor Helen Bartlett, Vice-Chancellor, said.
"The University is pleased to provide some assistance to our deserving students and help them have an equitable start to their studies."
Ceremonies have been held at the Mt Helen, Berwick, Gippsland and Wimmera Campuses throughout May.
A total of 69 Foundation Scholarships are being presented as part of the overall awards.
"Foundation Scholarships are available to our domestic, migrant and refugee higher education students who have a strong commitment to study and have some form of economic disadvantage," Pam Sutcliffe, Alumni and Foundation Officer, said.
"There are many inspirational stories from our Foundation Scholarship recipients. They are worthy students who greatly deserve the assistance they receive."
Other scholarship categories presented throughout May include TAFE Scholarships; IBM Scholarships; the Industry Placement Program; the Elite Athlete Scholarship; the Buninyong Community Bank Scholarship; the Carol Lynette Grant (Prowse) Scholarship; the Ian Alexander Gordon Scholarship; the Thom Nugent Memorial Scholarship; and Year 12 Scholarships.