Media releases
Gippsland researchers to release book on transformative education initiatives
Posted: Thursday 15 March 2018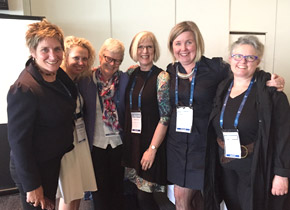 Gippsland educational researchers at Federation University Australia have secured a book contract with Springer for their edited collection entitled, 'Regional-global Transformations: On being relevant and responsive educational researchers'.
Edited by Dr Sue Plowright, Dr Monica Green and Associate Professor Nicola Johnson, the book shines a spotlight on transformative education initiatives and partnerships in Gippsland.
It also focuses on the human and environmental condition of a regional area at the forefront of global changes undergoing acute transition.
Contributors to the book include Di Harrison, Sue Emmett, Cheryl Glowrey, Margaret Plunkett, Nicholas Johnson, Hongming Ma, Anna Fletcher, Linda MacGregor
The research showcased in this compilation is by individual and small partnerships of Federation University Australia's Gippsland School of Education (FUGuE) researchers.
"The research is conducted through the authors' own values of relevance and responsibility to all Gippsland life and their vision of a globally sustainable and just future," Associate Professor Nicola Johnson, Deputy Head of the School of Education, said.
"Through this book, readers will gain a rich insight into contributions through educational research to this context of massive regional/global economic, environmental, identity, cultural and social shifts.
"The chapters describe how the authors speak to the universal human and researcher condition in a regional location and seek out transformation with their regional, educational research."
The compilation showcases a particular university in a regional context which is responding, rejuvenating, reinventing, re-envisioning and rethinking its research, its identity and its relationality with Gippslanders.
Picture: Dr Monica Green, Associate Professor Nicola Johnson, Dr Cheryl Glowrey, Mrs Di Harrison, Dr Anna Fletcher, Dr Sue Plowright