Media releases
FedUni and partners to celebrate ten years of Clemente program
Posted: Friday 9 March 2018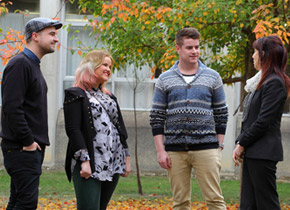 Federation University Australia will join local partners to celebrate the tenth anniversary of Clemente Ballarat on Wednesday, 21 March.
To be held at Ballarat Town Hall from 11.00 am to 1.00 pm, the event will celebrate the achievements of the program throughout the region.
Clemente Ballarat is an humanities-based higher education program which is life-changing for people experiencing disadvantage and social isolation.
The program aims to break the cycle of poverty, inequality and social injustice for marginalised and disadvantaged people in Ballarat.
Associate Professor Jeremy Smith, Chair of the Clemente Ballarat Steering Committee, said the event would be a celebration of ten years of achievement in education, research, and community engagement.
"The Clemente Program has been changing lives in Ballarat for ten years now. We provide educational opportunities, which can be critical turning points for members of our community experiencing social exclusion and inequality," Associate Professor Smith said.
"Our community-based partnership is strong and we are committed to the social justice goals of the program."
The Ballarat Town Hall event will be a celebration of everything the program has achieved since its inception.
In attendance will be representatives from Federation University Australia, Australian Catholic University, Centacare, The Smith Family, the City of Ballarat and United Way.
Students, volunteers, politicians, clergy and other community stakeholders also will be invited.