Media releases
FedUni announces sports partnership with ESS Performance
Posted: Friday 16 February 2018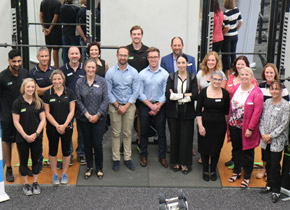 Federation University Australia is excited to announce a new partnership with ESS Performance over the next five years.
Arranged by the University's Faculty of Health and School of Health Sciences and Psychology, the partnership will provide FedUni Exercise and Sport Science students with new opportunities to advance their research and pursue their career.
The partnership will boost the branding and marketing of FedUni's Human Movement & Sport Sciences (HMSS) programs, exclusive practicum placements for FedUni students and the development of collaborative research projects between FedUni and ESS Performance.
"The University is delighted to confirm this exciting partnership with ESS Performance," Professor Penny Paliadelis, Executive Dean, Faculty of Health said.
"They are the leading provider of High Performance Training, Strength and Conditioning, Rehabilitation Services in the private sector.
"The organisation has developed a strong reputation in athlete development and provide access to cost effective, result based training and rehabilitation services generally reserved for the sporting elite."
ESS Performance provides best practice therapies and state-of-the-art training equipment to improve athlete's performance, fitness, wellness and injury rehabilitation needs.
Since opening in 2010, ESS has helped shape the athletic careers of thousands of elite and developing athletes and improved performance, fitness and injury outcomes for their clients.
"ESS Performance is incredibly excited to partner with FedUni to provide Exercise Sport Science students with access to a quality placement program taught from within a genuine high performance environment," Erin Bruhn, Director, ESS Performance, said.
"This partnership serves not only to enrich the student experience but to also provide essential practical placement opportunities for students to develop their skills and knowledge within the industry for better employment outcomes."
ESS Performance and the University will promote FedUni programs to their extensive network of past and current athletes and their parents, personal trainers, coaches and secondary school principals.
"Practicum placements are an opportunity for FedUni students to access state-of-the-art facilities in a metropolitan location and to work with developing and elite athletes and coaches across a variety of sports," Associate Professor Dara Twomey, Head of School of Health Sciences and Psychology, said.
"The placements are also an opportunity for ESS Performance to assist FedUni to integrate theory into practice, maintain commitment and enthusiasm for the industry and to showcase FedUni students as future employees.
"This agreement with ESS Performance will provide FedUni with guaranteed, exclusive opportunities in the Exercise and Sports Science and Sport Management industries," Associate Professor Twomey said.
"Practicum placements at ESS Performance provides a unique opportunity for FedUni students to be exclusively associated with a highly regarded and leading provider of high performance training, strength conditioning and rehabilitation services provided in the private sector.
"This agreement will also provide opportunities for FedUni students enrolled in Sport Management degrees to participate in practical based placements related to sport management including sport marketing and administrative/management projects," Associate Professor Twomey said.
"The research profile of both organisations can benefit from increased exposure to the Exercise and Sport Science industry."
FedUni HMSS academic staff also will deliver up to two professional workshops annually for the industry at ESS Performance's facility.