Media releases
Steve Bracks returns to FedUni to launch cycling route
Posted: Wednesday 22 November 2017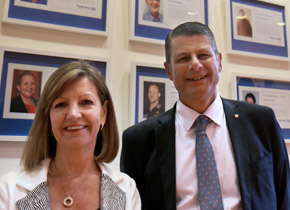 Steve Bracks, former Victorian Premier and distinguished alumnus of Federation University Australia, returned to the Mt Helen Campus this week to help launch the route of Cycling Australia's Road National Championships in January 2018.
Mr Bracks, who also is Chairman of Cycling Australia, graduated from the University in the 1970s.
"It was a delight to welcome Steve Bracks back to the University for the cycling route announcement," Vice-Chancellor, Professor Helen Bartlett, said.
"He is a senior member of our Distinguished Alumni group. As well as being a former Council Member of the University, he was awarded an Honorary Doctorate in 2007.
"We look forward to welcoming Steve back to the University on future occasions, particularly during the upcoming cycling season."