Media releases
First primary teaching group graduates from Gippsland Campus
Posted: Friday 17 November 2017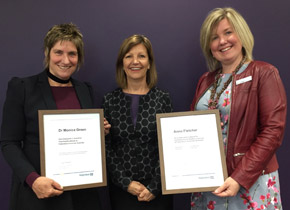 The first group of Bachelor of Education students to enrol at Federation University Australia's Gippsland Campus have completed their four years of study and will graduate in May next year.
"It is so pleasing to 46 pre-service teachers have just completed their Bachelor of Education (Primary) studies," Associate Professor Nicola Johnson, Deputy Head of the School of Education, said.
"They were our first FedUni cohort back in 2014 and we are very proud of them.
"Most of our pre-service teachers at Gippsland are from Gippsland, so it is wonderful to see that they are being employed in the area where they grew up and were educated," Associate Professor Johnson said.
"It is also wonderful to see that our Gippsland schools have been very keen to hire our classroom-ready graduates."
Graduating student Rachel Kennedy from Bruthen, East Gippsland, said the Bachelor of Education degree at FedUni had provided this year's graduating class fantastic opportunities and experiences over the past four years.
"The support we were offered as students was unbelievable and as students we felt fortunate to have such supportive lecturers guiding us in the right direction," Rachel said.
"Over the four years, we have learnt to be the best possible teachers we can be with a range of different courses and placement experiences.
"The faculty staff also encouraged and helped us to create the best versions of ourselves which has ensured our teaching is defined by our values and what we believe education should be about," Rachel said.
"I'm excited to be heading out into my first teaching job next year in the Gippsland region and look forward to furthering my career by studying Education Leadership in the future."
The quality of teaching provided by education academics at the Gippsland campus has been thoroughly reinforced by the teaching awards received by staff.
In 2016, Linda MacGregor and Dr Sue Emmett both won university teaching citation awards.
Dr Monica Green also won the national 2016 Office of Learning and Teaching Citation for Outstanding Contributions to Student Learning. The award was 'For outstanding innovation and leadership that promotes place-based community pedagogies and partnerships as part of high quality teaching and learning for pre-service teachers'.
This year Dr Monica Green and Dr Anna Fletcher were recipients of the FedUni Vice-Chancellor's Awards for Learning and Teaching.
Dr Green was awarded the Vice-Chancellor's Award for Teaching Excellence: 'For a sustained commitment to creative and innovative teaching excellence, leadership and scholarship in teacher education'.
Dr Fletcher received a Citation for Outstanding Contribution to Student Learning: 'For outstanding and sustained implementation of research-led approaches to design, coordination and development of teaching resources that promote enhanced learning'.
"This shows that we have quality staff who are producing quality graduate classroom-ready teachers," Associate Professor Johnson said.
Picture: Dr Monica Green; Vice-Chancellor, Professor Helen Bartlett; Dr Anna Fletcher