Media releases
FedUni receives further Australian Research Council grants
Posted: Tuesday 14 November 2017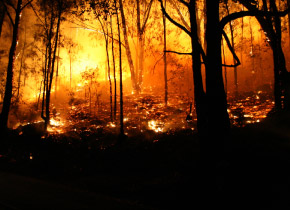 Senior academics from Federation University Australia have been featured in three leading Australian Research Council grants.
Awarded through the Linkage Infrastructure, Equipment and Facilities (LIEF) scheme, the grants have been allocated to many academics throughout Australian universities.
Dr Jess Reeves is a chief investigator in the successful LIEF grant for a national facility for the analysis of pyrogenic carbon.
"The new methodology will enable far more rapid, robust and cost effective measurements of the abundance and composition of carbon produced by biomass burning and fossil fuel combustion," Dr Reeves said.
"This is particularly important for dating ancient fire events, either due to wild fire or lit by people. It is also significant for assessments of soil carbon sequestration."
The team, led by Professor Michael Bird of James Cook University, comprises leading archaeologists, palaeoecologists and soil scientists from nine Australian universities.
In another project, Professor Leigh Sullivan, Professor Mohammad Murshed, Professor Guojun Lu, Associate Professor Peter Dahlhaus and Associate Professor Singarayer Florentine are part of a large cross-university $659,000 research group aiming to develop an earth systems monitoring facility using unmanned aerial vehicles and world-leading sensor technology.
Professor Peter Gell also is part of a research group awarded funding of $464,000 to establish a facility to enhance Australian capacity to analyse the stable isotope composition of silicate minerals.
"The facility will enable the Australian archaeology, and earth and environmental science communities to better utilise stable isotopes of silicate minerals such as clay and opal and the hard structures laid down by algae, grasses and sponges for example," Professor Gell said.
Applications range from understanding ore deposit formation, to fingerprinting sediment and human artefacts and to reconstructing long term climate change."
Professor Leigh Sullivan, Deputy Vice-Chancellor (Research and Innovation), congratulated all of the FedUni researchers on their grants.
"Our FedUni researchers will play a major role in the success of these projects," Professor Leigh Sullivan, Deputy Vice-Chancellor (Research and Innovation), Professor Sullivan said.
"The University will continue to expand its research footprint in the pursuit of large-scale projects such as these."