Media releases
University researchers claim major sport and recreation award
Posted: Friday 27 October 2017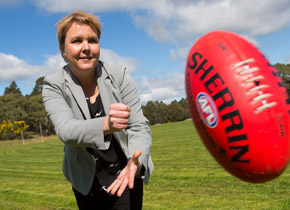 The Sport and Recreation Spatial team at Federation University Australia has been presented with the prestigious Parks and Leisure Australia national research award.
The research team won the state-based (Vic/Tas) award earlier in the year and Associate Professor Rochelle Eime went to the Gold Coast this week for the national conference and award ceremony.
"The Sport and Recreation Spatial research is all about investigating sport and recreation participation and facilities, and health outcomes for evidence based decision making," Associate Professor Eime said.
"It is an honour to receive this award and we are grateful for the recognition from the sport and recreation, government and health sectors."
The team provides a range of research analysis and reporting for sport, recreational and health organisations as well as local and state governments.
Professor Leigh Sullivan, Deputy Vice-Chancellor (Research and Innovation), congratulated the team on their outstanding success.
"The Sport and Recreation Spatial team are national leaders in their field," Professor Sullivan said.
"Their discipline is one of the University's Research Priority Areas and attracts great interest from our prospective students."