Media releases
FedUni students guests at Sir Frank Macfarlane Burnet Address
Posted: Tuesday 24 October 2017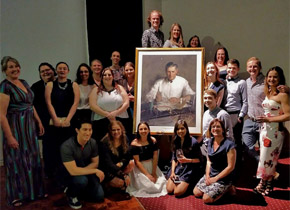 Fifteen science students from Federation University Australia's Gippsland Campus attended the Annual Sir Frank Macfarlane Burnet Address in Traralgon on Wednesday, 18 October.
The Address is a celebration of Sir Frank Macfarlane Burnet, (3 September 1899 – 31 August 1985). Born in Traralgon, he became a virologist highly regarded for his contributions to immunology. He won a Nobel Prize in 1960.
The Walter and Eliza Hall Institute and the Order of Australia Association, Gippsland Branch, sponsored FedUni students to attend the address and dinner. This annual event is aimed at sharing the latest developments in the field with interested professionals, undergraduate and postgraduate students studying medical science, and members of the public.
The guest speaker was Professor Doug Hilton, AO, CEO of the Walter and Eliza Hall Institute. The presentation titled 'From Bench to Bedside' considered the advances in the development of personalised medicine with an emphasis on drug discovery and development.
Current research is aimed at understanding how genetic profiles can be used to determine what drug will be the most beneficial for an individual patient. Students found it a motivating and inspiring evening, which highlighted the relevance of their studies. Many are hoping to move into careers in the medical research field.
Pictured: Head of School of Applied and Biomedical Science, Jenny Mosse, staff and students with a portrait of Sir Frank Macfarlane Burnet at the Premiere Function Centre, Traralgon