Media releases
FedUni honours Antarctic explorer Dick Richards
Posted: Thursday 7 September 2017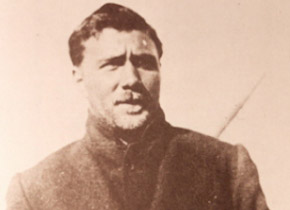 Federation University Australia was delighted to honour famed Antarctic explorer Dick Richards at its recent Alumni Awards ceremony at Ballarat.
R W (Dick) Richards was awarded the Posthumous Distinguished Alumnus Award for his services to our University.
"The University was delighted that his daughter Patricia Lathlean was able to attend our ceremony to accept her late father's award," Professor Todd Walker, Deputy Vice-Chancellor (Engagement), said.
"Ms Lathlean's presence complemented a marvellous evening where we honoured six outstanding alumni members."
Dick Richards was an Australian science teacher who joined the Ballarat School of Mines in 1914, and soon afterwards was granted leave to join an expedition to Antarctica.
In 1915, he sailed from Australia with the Antarctic Exploration Expedition, led by Sir Ernest Shackleton.
He spent three freezing years in Antarctica, travelling south with Sir Ernest Shackleton. Temperatures were as low as minus 68F.
After rescue in January 1917, and his return to Australia, Dick resumed his work at SMB as Lecturer in Physics and Mathematics, and developed many pieces of experimental equipment.
During World War II he acted as a scientific adviser in the production of optical apparatus in Australia. He was awarded the Albert Medal in 1923 for his efforts on the ice to save the lives of two fellow explorers. This award was converted in 1971 to the George Cross.
In 1946 he was appointed Principal and twelve years later he retired after a total of 44 years service.
After returning to Australia, Dick was honoured through the naming of a Ballarat School of Mines prize – the R W Richards Medal. It has been awarded annually since 1959 to a Bachelor of Applied Science graduate considered to have achieved the most outstanding academic performance of their course.
He outlived all other members of the expedition, and became the last survivor of the 'Heroic Age' of Antarctic exploration, dying at the age of 91 in 1985.