Media releases
FedUni signs collaboration agreement with AGL to boost opportunities in Latrobe Valley
Posted: Friday 7 July 2017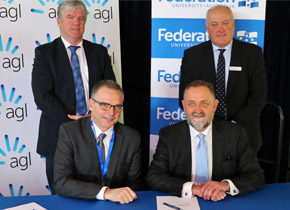 A landmark agreement between Federation University Australia and AGL will greatly assist the Latrobe Valley by providing opportunities in education and training, research, innovation and commercial services.
The Collaboration Agreement was signed today during the Committee for Gippsland's 2017 Gippsland Jobs and Innovation Showcase, held at the University's Gippsland Campus.
"FedUni is delighted to partner AGL to foster economic growth and develop much-needed research, education and training opportunities in the Latrobe Valley," Professor Todd Walker, Deputy Vice-Chancellor (Engagement), said.
"The University is the main provider of higher education in the region and we continue to be committed to the community during these times of economic transition."
As part of the agreement, a collaborative steering group will lead projects in social and economic aspects of the energy sector and regional diversification of the Latrobe Valley.
These will include:
AGL Energy accepting post-doctoral fellows in short and long term projects
FedUni supporting AGL Energy staff to undertake education and training, and/or research and higher degrees by research;
FedUni will carry out customised education and training programs for AGL Energy staff and suppliers;
Students will undertake workplace project and/or internships or higher degrees by research studies, and,
A five day Enterprise Development Program to foster business growth and resilience.
"The Enterprise Development Program will be our first collaborative venture and will allow local businesses the opportunity to undertake a fully funded five day business course to help them diversify and grow," Professor Walker said.
Expressions of interest for the suppliers' course close on Friday 28 July. For more details visit www.agl.com.au/AglLoyYangCommunityMatters
Media enquiries: Brendan Carroll, 0437 234 635