Media releases
Child abuse Royal Commission inspires FedUni theatrical production
Posted: Tuesday 4 July 2017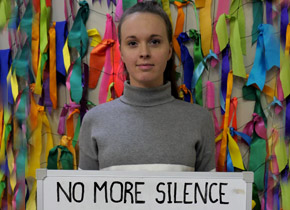 A new theatre work devised and created by recent alumni of Federation University Australia's Arts Academy will explore what it means to be a survivor of abuse.
No More Silence uses words and interviews taken from the lives of 13 survivors in Ballarat to convey a journey, travelling from a place of suffering and confusion to recovery and acceptance.
"Each year the FedUni Arts Academy allows time and space for our students to explore new ideas and to collaborate on new work. No More Silence was developed in the 2016 student theatre festival," Federation University Australia's Arts Academy Director Bryce Ives said.
"This is potent and urgent local theatre-making from recent FedUni graduates. The alumni are engaging verbatim theatre to use the words and stories drawn from those impacted by the Royal Commission into Institutionalised response to Child Abuse."
The students were also inspired by the Loud Fence movement, which emerged as they were studying at the FedUni Arts Academy, where members of the Ballarat community tied colourful ribbons on fences as a sign of support
The work is directed by two 2016 FedUni Acting graduates Hannah Davies and Fae O'Toole.
"We decided we wanted to bring what we could to continue to support to these survivors and stand with our Ballarat community who have responded with unity," Hannah said.
"What we could contribute artistically was theatre, which developed into a piece which is based on 13 interviews with survivors and exploring their words through movement and sound."

Both Fae and Hannah were struck by the Ballarat community's reaction to the Royal Commission and how it "managed to transform something painful into something beautiful.
"When we had the chance to make our own work in the 2016 Student Theatre Festival, we wanted to use our skills to make a piece of work that made us feel how looking at those ribbons felt; sad, but hopeful," she said.
The interviews contained brutally honest stories of trauma, loss and healing. And while they were highly personal, the two say they are also universal to all survivors of abuse.
"Despite their painful past, these people have invaluable lessons about healing, ideas about preventative measures and inspiring messages of hope for those who are still struggling."
The FedUni Arts Academy alumni hope to raise funds for the Centre against Sexual Assault in Sebastopol as well as inspire community action beyond awareness.
No More Silence will be performed at the Wendouree Performing Arts Centre on Friday 7 and Saturday 8 July, the Bairnsdale Forge Theatre on Saturday 15 July, and Geelong Potato Shed on Friday 28 July.
The production is devised by ten Federation University Arts Academy Alumni: Iopu Auva'a (2013 Acting Graduate), Raymond Martini (2014 Acting Graduate), David Gallagher (2015 Acting Graduate), Madeline Dunkley (2016 Acting Graduate), Brendan Faulks (2016 Acting Graduate), Lewis Beer (2016 Musical Theatre Graduate) Patrick Schnur (2016 Musical Theatre Graduate) and Tess Walsh (2016 Musical Theatre Graduate).