Media releases
FedUni Business School and Buninyong Bank form alliance
Posted: Friday 30 June 2017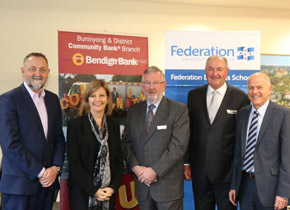 Federation University Australia's Business School and Buninyong & District Community Bank have formed a Strategic Alliance to foster collaboration and co-operation in education and training, research and consulting services between both parties.
The signing of this MOU marks the beginning of an exciting collaboration between education and industry.
"The University is delighted to sign this agreement as there are many shared values between both organisations," Associate Professor Bob O'Shea, Executive Dean of Federation Business School, said.
"We look forward to working with the Buninyong and District Community Bank on many business activities to further the growth of our region and the education of tertiary business students."
The recent signing ceremony was attended by the University's Vice-Chancellor, Professor Helen Bartlett; Deputy Vice Chancellor (Engagement) Professor Todd Walker; Deputy Vice Chancellor (Academic), Professor Andy Smith and Head of Ballarat Campus, Dr Sam Henson, plus a wide range of academic staff.
Professor Bartlett congratulated both parties and indicated a desire for continuing development between FedUni and Buninyong Community Bank.
The MOU was signed by Associate Professor Bob O'Shea and Buninyong Community Bank's Chairman, Richard McDowell.
The agreement is a testament to coordinated teamwork within the University and members of Bendigo Bank.
Steve Falconer, Director of Buninyong & District Community Bank, said: "Buninyong Community Bank directors hold the view that the mutually supportive collaboration which this Agreement represents is an example of our community building efforts in action, and that it will contribute to strengthening University, students, community and bank alike."
A joint steering committee will be established to guide and report on the implementation of the agreement.
Picture: Professor Todd Walker, Deputy Vice-Chancellor (Engagement); Professor Helen Bartlett, Vice-Chancellor; Steve Falconer, Director, Buninyong & District Community Bank; Richard McDowell, Chairman, Buninyong & District Community Bank; Associate Professor Bob O'Shea, Executive Dean, Federation Business School