Media releases
FedUni new naming rights sponsor for Gippsland Business Awards
Posted: Monday 23 January 2017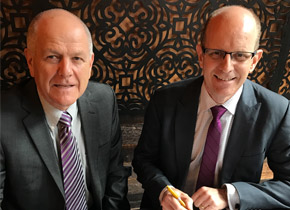 Federation University Australia has signed a three-year deal as the new naming rights sponsor of the Gippsland Business Awards.
The new sponsorship arrangement will see FedUni's Business School partner the Gippsland Business Awards Committee to launch the 2017 Federation Business School Gippsland Business Awards.
Associate Professor Bob O'Shea, Executive Dean of the Federation Business School, said the naming rights deal was part of the University's ongoing commitment to support local businesses in the community.
"The ingredients that contribute to sustainable communities are many but one thing for sure is the critical role business plays," Associate Professor Bob O'Shea said.
"Thriving businesses usually means thriving communities. Business creates jobs, which creates income, which leads to spending and re-investment in the community.
"Jobs lead to family security, access to better health and education opportunities."
Graeme Sennett, Gippsland Business Awards Chairman, welcomed the University as naming rights sponsor to support the future growth of business and entrepreneurs in the region.
"We are excited to be embarking on a three-year partnership with Federation University Australia," Mr Sennett said.
"The university is renowned for its research and creative excellence and high performing education system as well as close links with local businesses."
Mr Sennett thanked long term naming rights sponsor Bendigo Bank for its continued support. The bank will stay on as a category sponsor in this year's awards.
Details of the 2017 Federation Business School Gippsland Business Awards can be found at www.gba.org.au