Media releases
Funding announced for new sports pavilion at Gippsland Campus
Posted: Tuesday 20 December 2016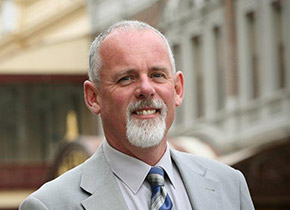 Federation University Australia has welcomed the Victorian Government funding announcement of $650,000 for the construction of the Latrobe City Synthetic Sports Field pavilion.
The $1.3 million project to be constructed on FedUni's Gippsland Campus is a partnership between the Victorian Government, Latrobe City Council, Federation University Australia and the Latrobe Valley Hockey Association. It is expected to get underway next year.
Federation University Australia's Acting Vice-Chancellor, Professor Andy Smith, said the pavilion was the latest in a series of major projects in which the University has partnered with Latrobe City to improve facilities and services for both the community and students.
"For FedUni, the pavilion will be significant in the teaching of Health and Physical Education and our newest courses, Exercise and Sports Science," Professor Smith said.
"To have quality change rooms and function room, doubling as a classroom, next to a synthetic field provides students and their lecturers with fantastic options in how they can combine the practical and theoretical aspects of their courses.
"The location of these facilities, so close to the leisure centre, student residences, University teaching facilities, the golf course and walking trails make this campus unique in what can be offered to students, and visiting sporting teams.
"In the past we have seen Southern Uni Games, Oceania junior basketball competition, the Women's National Volleyball squad training and State Netball. State League Hockey has been played and with the new pavilion we hope to see more," Professor Smith said.
The funding announcement comes as FedUni was endorsed by the Australian Sports Commission as an Elite Athlete Friendly University which allows the University to develop and implement support systems for enrolment, courses and assessment.
In addition to the State Government's $650,000, Latrobe City Council is contributing $230,000 towards this project, Federation University Australia $400,000 and the Latrobe Valley Hockey Association $20,000.
Media enquiries: Brendan Carroll 0437 234 635