Media releases
FedUni to support business in new accelerator program
Posted: Sunday 18 December 2016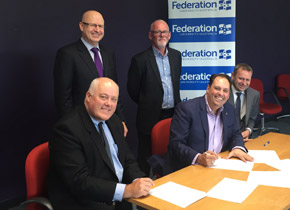 Federation University Australia has signed a memorandum of understanding (MOU) with the State Government as part of an initiative to support start-ups and entrepreneurs in regional Victoria.
The Regional Accelerator Program, led by La Trobe University, is a partnership with FedUni, Deakin University and the State Government aiming to harness bright minds in regional Victoria to boost the economy and employment opportunities.
Successful applicants will be provided with the right tools to launch their businesses including access to funding, office space, mentoring programs, networking, local and international business pitching opportunities.
Professor Leigh Sullivan, FedUni's Deputy Vice Chancellor (Research and Innovation), said signing the MOU provided a platform to unlock innovation and ideas that already exist throughout the Gippsland region.
"This is great news for start-ups in Victoria. We are pleased to be a part of this as Federation University is well-known for our research and creative excellence and high performing education system," Professor Sullivan said.
"The Regional Accelerator Program sets the foundation for growth and prosperity in regional Victoria by accelerating connections between people and ideas across businesses creating innovation, new technology, goods and services, as well as job opportunities."
The Regional Access Program will be rolled out from 2017 across Victoria. For more information or to apply visit www.launchvic.org