Media releases
Everything ready for FedUni Info Day
Posted: Friday 9 December 2016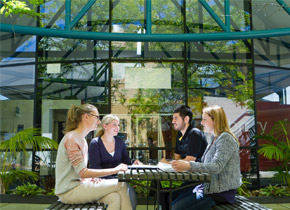 Federation University Australia will hold its major Change Of Preference Info Day for students at its Mt Helen, Gippsland and Berwick campuses on Wednesday, 14 December.
To be held from 11 am to 2 pm, the Info Day will include campus tours and plenty of information on the courses the university has on offer.
"By choosing FedUni, new students will find a university that believes in your future and your will to succeed," Professor Andy Smith, Acting Vice-Chancellor, said.
"Our Info Day is designed to assist you with any queries you may have after receiving your ATAR scores.
"We understand that plans change, sometimes by choice, sometimes by circumstance. The Info Day will give you all the information you need about possible change of preferences and the exciting opportunities we can offer you next year and beyond," Professor Smith said.
"The University also is pleased to offer Regional Travel Grants of up to $100 to attendees travelling from outside specified regions."
The University is currently ranked number one in Victoria for teaching quality, student support, skills development, full time employment and median salary.
Detailed information about the following will be available at both campuses on Info Day:
Open Access programs - providing more opportunities to study at university
Pathways to study - find out about alternative entry and TAFE options
Course information - get detailed program information and speak with our lecturers
Application advice - get answers to some of those tricky application questions
Advice for mature-age students - find out how we can help you transition back into study
Employment and careers information - find out where your hard work will take you
Fee advice - find out what assistance options are available to you
Student accommodation, particularly for those from remote areas
Student support services - find out how we can make your transition to FedUni so much easier
Campus tours - guided tours will provide a glimpse of what campus life is all about
Refreshments and food also will be available at each campus.
The University's Change of Preference Hotline is at 1800 333 864. More information also is available at federation.edu.au/infoday