Foundation Access Studies (FAST)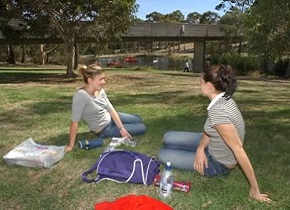 About FAST
The Foundation Access Studies (FAST) program runs over one semester and prepares students for study in a degree program at Federation University Australia. The program is designed to provide alternative entry to tertiary study at FedUni.
FAST prepares students with the skills and confidence to undertake degree level studies. At the same time it allows prospective students to experience university study firsthand.
The program is targeted at students who do not hold prerequisites for entry into a degree. Applicants who have not been selected into a higher education program can instead enrol in FAST. The program also helps those who are returning to study. It can then develop the skills, attitudes and knowledge to confirm their decision about university study.
FAST comprises a number of key study areas designed to provide students with the skills to succeed in higher education. Details of these study areas are set out in the FAST handbook.
Domestic students (Australian citizens, New Zealand citizens or students with permanent resident status) are eligible for selection into FAST. Selection is made according to your academic ability to succeed in FAST and your commitment to study in a degree at FedUni. Your skills and qualifications will be assessed to determine whether FAST is the best means for you to access your chosen degree of study.
Opportunities after FAST
Successful completion of FAST guarantees you an offer of a place in a FedUni degree. This may not mean students completing FAST will obtain admission to the specific degree of their choice. However, any student who completes FAST will be offered a place in a degree, related to their interests and abilities. Prospective students should check with the specific School for details about their preferred course of study and any additional requirements.
The FAST program will not remove all the difficulties you may face in attempting university study. However, it will provide a stimulating and challenging opportunity to test yourself, and possibly find a new direction in life.
How to apply
Which application method?
Semester 1 commencement applications – with VCE studies
Applicants with prior VCE study commencing in Semester 1 apply through VTAC.
[ALL non-VCE and mid-year applicants apply directly].
VTAC codes:
3700510081 – Mt Helen Campus (Ballarat)
3700710081 – Gippsland Campus (Churchill)
3701810081 – Berwick Campus (Berwick)
3700810081 – Off-campus / Online
Mid-year and non-VCE applications
[ALL mid-year applicants apply directly]. Please note: Mid-year 2018 places are limited.
FAST Online Learning - not accepting new applications for Mid-year 2018.
Use Federation code FA0
If you are not sure which application method is right for your situation call us on 1800 FED UNI (1800 333 864) or visit the Ask FedUni Portal - https://ask.federation.edu.au/.
If you have a current VTAC application and are applying for FAST during Change of Preference, you will need to add FAST to your VTAC preferences.
Please note
To ensure that appropriate study support for each student is available according to their needs applicants may be asked to demonstrate their literacy and numeracy skills through an online test as part of the application process.
Enrolment
If you have accepted an offer, please go to the New Enrolments webpage for a step-by-step guide through the enrolment process.
Further information
Additional information about this course can be found on Course Finder.
Commencing students
Please find below some useful links to get you started: