Scholarships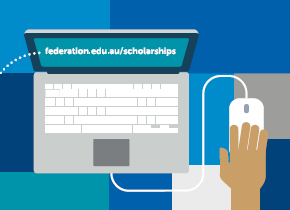 Scholarships at FedUni provide financial assistance to students to help further their education. There are a number of different scholarships available for current eligible students. Some scholarships are based on academic merit, other scholarships exist to support students from indigenous backgrounds, students suffering financial hardship and students who have relocated from remote or regional areas to study.
Schools scholarships
These scholarships are specific to students that are studying within that School.
FedUni-wide scholarships
Scholarships that are offered by internal FedUni departments. These include;
External
A number of scholarships are available to students that are administered and offered externally from national and international organisations. These scholarships are based on various criteria, and are usually specific to the purpose and/or values of the organisation offering the scholarship.
Please note: We do not maintain any of the information contained within these links, and cannot guarantee that the information given is up to date or accurate. Please contact the external organisation involved for further information.