Pre-Movie Mixer
Thursday 23 February 2017
Pimm's & Pizza will be served as the Leadership & Volunteer team host a Pre-Movie Mixer, getting you mingling and chatting with other students and making new friends in time for the movie to begin. Have fun meeting people from other courses across the uni and discovering what passions you have in common!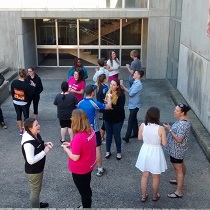 The Pre-Movie Mixer is the best way to meet to new people.
Location: Amphitheatre next to T Building, Mt Helen Campus
Times: 7pm - 8pm
Featuring: A mixer event to meet other students, featuring free Pimm's and Pizza.
This event will be hosted by your Leadership & Volunteering team. Find us on facebook at:www.facebook.com/FedUniLeadership