Alice Robinson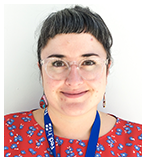 Position: Senior Learning Skills Advisor
Location: Library, Berwick Campus
Phone: N/a
Email: a.robinson@federation.edu.au
Qualifications: PhD by Research in Creative Writing - Victoria University
Biography
As a Senior Learning Skills Advisor, Dr Alice Robinson is passionate about supporting students to acquire the academic skills necessary for university study.
Alice has taught writing, literature and academic skills in various contexts, including in Indigenous communities and in China. However, for the past decade, Alice has been predominantly employed in universities as an ongoing and sessional academic in the arts and humanities. Alice has a PhD by Research in Creative Writing from Victoria University, where she was the recipient of the Vice Chancellors' Award for Research and Research Training for her work on literature and climate change. Alice has also presented her research at national and international conferences, and published in academic journals.
Outside of academic work, Alice maintains a robust writing practice as a working writer. Alice's first novel, Anchor Point (Affirm Press, 2015) was longlisted for the Stella Prize and the Indie Book Awards (debut fiction). Her second novel, The Glad Shout (Affirm Press, 2019) was recently published to acclaim. Her fiction, essays and reviews have been published widely in print and online, and she has appeared at writers' festivals across Australia championing books and writing.