Australia-China Alumni Association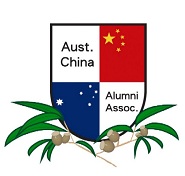 The Australia-China Alumni Association aims to be an inclusive organisation for all alumni of Australian Universities who are living in China. It began operations in Beijing in June 2007, and expanded to Shanghai in July 2008 and Guangzhou in July 2009. The Association is now supporting 32 Australian universities (including Federation University Australia) and is connected with 8,650 plus alumni across China, with a goal of 10,000 plus alumni by the end of 2013.
The Association's aims are to:
Maintain close and ongoing links with alumni in China
Provide a powerful network of contacts (business contacts, government contacts, academic contacts, scientific contacts etc)
Maintain an up-to-date bilingual database for alumni for each University
Raise the profile of Australian education and Australian universities in China
Provide ongoing career advice and support for Chinese alumni upon their return to China and for international alumni who are living and working in China
Provide a social networking opportunity for alumni in China
Promote the concept of alumni philanthropy (donations to support universities etc)
Provide on-the-ground resources in China to assist individual Universities who wish to hold alumni events, conferences etc. in country
Work closely with the Australian business community for mutual benefit (networking, internships, career development seminars etc)
How to join
Register free of charge on the Australia-China Alumni Association website to start receiving information on news and events. To view a list of all of the universities registered with the Australia-China Alumni Association please view the Australia-China Alumni Association brochure.