Ballarat International Foto Biennale
The Arts Academy's contribution to the acclaimed 2017 Ballarat International Foto Biennale (BIFB) was immense.
Exhibitions of work by our students and staff were in the 2017 Fringe program, hung up and pasted across Ballarat, in the Camp Street precinct and our Post Office Gallery. Artist talks, launches, meet-the-artist events and workshops were available throughout the Biennale, 19 August – 17 September 2017.
Exhibition, Cracks in the Seams – Dr Jill Orr, researcher & lecturer
Exhibition, Why Do You Play – Third-year Communication Design students
Exhibition, Imprints: Storytelling the City – Amy Tsilemanis, PhD student
Exhibition and artist talk, Ich Werde Deutsch – Maziar Moriadi
Workshop, Creative Off Camera Flash – Michelle Dunn
Launch and paste-up, #DYSTURB
Workshop, Lighting – Rocco Ancora
Workshop, From Photography to Etching, The Photogravura – Silva Glattauer
Read about these and more at the BIFB website.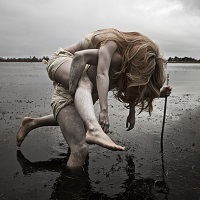 Image: Christina Simons
From: Exhibition, Cracks in the Seams – Dr Jill Orr