Dr Mark Guirguis
Mark is excited by Ballarat's rich cultural heritage.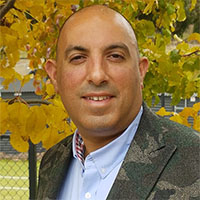 Mark is a local surgeon, father and philanthropist. He moved to Ballarat in 2005 having spent a year completing a surgical fellowship in London with his wife, Carolyn and two young children.
The son of Egyptian academics, Mark was born in Melbourne and grew up there. He was impressed by Ballarat's thriving arts scene when he was first introduced to it in 2009. At that time, a patient invited him to a student art auction at the Arts Academy, Federation University (then the University of Ballarat). From introductions made that evening, Mark went on to establish the Guirguis New Art Prize (GNAP), a national acquisitive biennale art prize. The Prize was launched in 2013.
Mark is currently Chair of the Art Gallery of Ballarat Foundation, a Board Member of the Art Gallery of Ballarat, and a Board Member of the Public Art Advisory Committee (PAAC) for the City of Ballarat.
Mark is also Head of Unit for ENT (Ear Nose and Throat), Head and Neck at Ballarat Health Services, and Chair of the Lead Clinicians for Ballarat Regional Integrated Cancer Services.
He holds appointments as Senior Lecturer at the University of Melbourne, Deakin University and Notre Dame University.
As well as his interest in the Arts, Mark enjoys sport, being a passionate Hawthorn supporter in the AFL and coaching premiership winning junior sporting teams in basketball and soccer.
Mark lives on a beautiful 10 acre property in Ballarat with his wife Carolyn, and their four children.
Biography and image supplied by Mark Guirguis, 2017.