Harley Morrison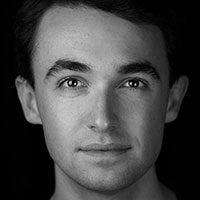 Harley began performing at the ripe age of six, playing the cornet because the trumpet was too heavy for him to hold. Most recently he used his excellent wit in Sovereign Hill's Cabaret at Christmas, featuring as both the Host and Baritone. 2016 saw Harley grow a moustache, steal a brain, and use a somewhat questionable French accent to charm his way through Motor-mouth Loves Suck-face: An Apocalyptic Musical as Christopher Tupper, in addition to jumping aboard StageArt's production of Titanic: The Musical as Edgar Beane, a second-class passenger who drowned eight shows a week. Harley has featured in Elvis Leaves his Mark! (Dancer, Quartet Singer) and performed in The Memoirs of Hannah Pullar (Dancer).
His screen credits include The Dr Blake Mysteries, City Homicide, As the Bell Rings, and the music video for Vance Joy's Georgia. Highlights during his time studying at the Arts Academy (2015 Graduating Music Theatre Company) include The Mystery of Edwin Drood (Thomas Purcell, Male Swing), Thoroughly Modern Millie (Ching Ho), Urinetown: The Musical (Mr McQueen), writing his cabaret Don't Mention The "N" Word, and working with Nancye Hayes OAM in Romance, Riches and Rebellion (Rafaello Carboni).
His production credits include The Addams Family (Production Assistant) and RENT (Producer). Read more about Harley's credits at the Showcast website.
Image: Peter Rugg Photography