Getting there
By train, bus or ferry
Brisbane has one of the best public transport networks in the country. It reaches all Major suburban areas from the Sunshine Coast to Ipswich and the Gold Coast. The Brisbane City Campus is just 150m walking distance from Central Station. All major train lines stop at Central Station.
Also, buses run across the entire network, with night services available in the city and surrounding suburbs. Or, if you'd like to take a more scenic route, ferries and the CityCat catamarans travel along the Brisbane River daily, offering stunning views of the city skyline and a comfortable ride to class.
To plan your journey, look at public transport maps or use the 'plan your journey' search on the TransLink website. Then, keep everything at your fingertips by downloading the app from your favourite app store. All you'll need is your TransLink go card and your favourite playlist to enjoy your journey.
Go card
Queensland public transport fares start from as little as $1.30 for eligible students with an activated concession go card. You will need a go card to utilise all transport services, and these can be purchased online, or you can search for your closest retailer here.
When purchasing, you'll nominate a dollar amount to add to your card for your travel expenses, and you can 'top-up' this amount online or at local transport stations when required.
Once purchased, you'll need to register your go card and activate your concession discounts. You can buy, register, top-up, and manage your go card by visiting the TransLink website or speaking to Student Support if you would like assistance finding your way around Brisbane.
Arriving by Air
The AirTrain provides a quick and easy option for getting to and from the Brisbane Airport (domestic and international terminals), which is just 20 minutes by train from the city.
The AirTrain services operate every 15 minutes during peak times and every 30 minutes during off-peak periods. In addition, AirTrain offers express services to the Gold Coast and connects to the Queensland Rail suburban network.
Tickets can be purchased at the AirTrain desks at the AirTran Airport stations. Go Cards are accepted on AirTrain services. For more information on GoCards, visit the TransLink website.
For more information, including ticket pricing and travel planners, visit the AirTrain website.
If catching the train is not for you, a range of alternative transport options are available by visiting the Brisbane Airport website.
Bikes and scooters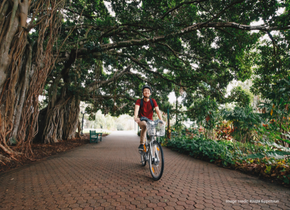 Travelling to campus by bike is a great way to stay fit and healthy while reducing travel costs. Students are welcome to secure their bikes on Level 5 or at nearby cycle parking bays at Cathedral Square. Visit the Brisbane City Council website to find safe routes for your commute.
Motorised scooters have also become a popular mode of transport to navigate the laneways and beautiful parklands in and around Brisbane. Multiple ride-sharing options are available with neuron and beam. Hire starts from as little as AU$1 per minute, or you can bring your scooter to park on campus.