Facilities and external services

Accommodation
Known for its relatively low cost of living, Brisbane boasts a wide range of accommodation options to suit your needs and budget. Take advantage of this useful search tool where you can filter according to your accommodation preferences: https://www.brisbanestudentaccommodation.com/. Alternatively, students like to rely on Domain, Realestate.com, Rent buddy and other apps available to download from your preferred app store.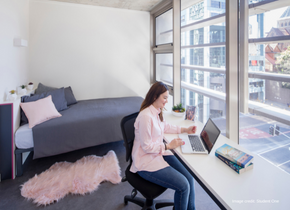 Café and eateries
Want to find something to eat? Or are you craving that coffee or chai hit to give you an extra energy boost? You'll feel spoilt for choice with an abundance of nearby eateries that serve your every need. Our local favourite, Raw On Ann, is located on the ground floor of our campus building and offers excellent discounts exclusive to Federation students.
If you're looking for something new, across the street from campus you'll find the Brisbane City Markets – a popular student stopover between classes. They're held every Thursday at Cathedral Park, just 150m walk from Campus. Explore your inner 'foodie' at other Brisbane favourites such as Eat Street North Shore, Howard Smith Wharves, Sunnybank $2 food trail and a range of annual cultural food festivals.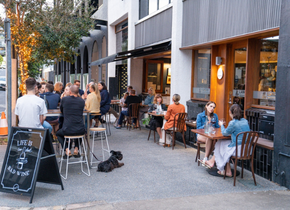 Child-care (off-campus)
Federation recognises the commitment that all of our students have to their families. For those with young children, there are a range of child-care services located nearby that will provide your child a great experience while offering you the convenience of pickup/drop off around your class timetable. Utilise the Australian Government Child Care Finder portal to find the most suitable option for you and family.
Fedstore
The Fedstore stocks a range of Federation University branded items, apparel, giftware and stationery. Visit the online store to browse, with all your purchase sent directly to your home address. Find out more.
Gym (off-campus)
City-based gyms are in abundance near campus. Within 100m you'll find Jetts 24 hour fitness - a popular low-budget option for students. The Brisbane City Council also schedule regular health and wellness festivals with a range of activities such as yoga, HIIT and group classes. These outdoor festivals are another low-cost alternative to a gym membership and are perfectly suited to Brisbane's sub-tropical climate. See what's on.
The FedMoves app, created by Federation University, is designed to help get you moving. Gain free access to on-demand fitness classes, at-home workouts, healthy recipes, outdoor activity tracking, MOVEs challenges and more. Download today from the App Store (iPhone) and Play Store (Android).
Library
Located on level 7, our modern library offers students an expansive space equipped with everything you need to succeed in your studies. Here you'll find quiet study nooks, resources, computers, readily available study equipment and a dedicated classroom where academic skills sessions are held weekly. Students are also connected to our Library and Learning Support team who are on-hand to provide personalised academic support to enhance your learning experience and help you ace those assessments. You can also access a range of academic support services by visiting the library website.
Private study spaces
The Brisbane Campus Library offers private study spaces for students to work on team projects and assessments. Located on Level 7, students can book rooms of four or six-person capacity on the library website here during opening hours.
Spiritual centre
Federation University embraces and celebrates the diversity of our campus communities. Our dedicated spiritual room located on Level 6 is available to all staff and students who wish to practice religious observances such as prayer, meditation, and reflection. If you would like something included in the spiritual room to facilitate your religious and spiritual practices, please let your Student Support team know.
Visit this website for more information on local religious communities and places of worship.