Achieve your health and fitness goals with UniSports
Health and fitness centre with fully equipped gym

Located within the state of the art Health and Sports Precinct on the Mt Helen Campus, UniSports can help you to achieve your health and fitness goals. UniSports features a Health and Fitness Centre, heated indoor 25 metre pool, indoor sports stadiums, active studio, tennis courts with membership options available for students, staff and the community. UniSports also offers Learn to Swim programs, group fitness classes, personal training, children's birthday parties and facility hire for school and community organisations.
Subscribe to our member updates
Welcome to the Health and Fitness Centre
Our newly renovated Health and Fitness Centre features the latest equipment from Technogym and provides our members with an outstanding experience. The equipment can be synchronised to the FedMoves app which has been specifically developed for Federation University and available for download from the App Store (iPhone) and Play Store (Android).
All our Health and Fitness Centre gym instructors are fully qualified with VicFit accreditation, and possess or are currently completing a degree in human movement, physical education or exercise rehabilitation. All staff have expertise and experience in all aspects of strength and conditioning, fitness, health and well being.
Benefits of a UniSports membership includes:
Access to UniSports facilities and group fitness classes
Regular fitness assessments
Personalised exercise programs
Friendly and relaxed atmosphere
Sports science and health and well being advice
Nutritional guidance
Achieve your health and fitness goals at UniSports with our wide range of membership and payment options. Whether you're a gym user or a swimmer, or both, we have a membership that will suit your needs.
Keeping our members COVID safe
In accordance with the Victorian Government, Aquatics & Recreation Victoria and Life Saving Victoria guidelines, the following conditions apply when visiting UniSports:
If you are unwell, you must not visit the centre
All visitors are required to report to UniSports staff upon entry.
You must comply with QR scanning via your smart phone for contact tracing.UniSports staff are available if you require assistance
Social distancing of 1.5 metres must be maintained at all times
A no towel, no visit policy will apply
All gym equipment must be cleaned after each individual use
Aquatics
With eight lanes heated to 29 degrees, UniSports swimming pool is ideal for both the recreational and lap swimmers. We offer a wide range of aquatic programs including learn to swim classes for people of all ages and abilities.
The UniSports Royal Life Saving Victoria Learn to Swim program is run by AUSTSWIM accredited instructors and is suitable for all swimming levels and ages from as young as 6 months through to adults. Our instructors bring a wealth of experience, skill and enthusiasm to the program, so each student can reach their potential. All students also have complimentary access to the pool throughout their enrolled term.
Find out more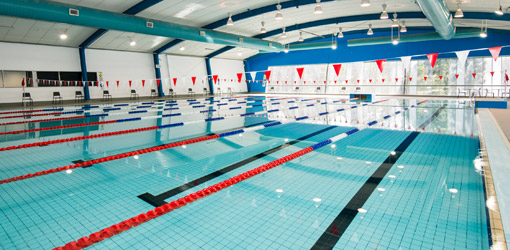 ---