Achieve your health and fitness goals with UniSports
Health and fitness centre with fully equipped gym
Subscribe to our member updates
Located within the state of the art Health and Sports Precinct on the Mt Helen Campus, UniSports can help you to achieve your health and fitness goals. UniSports features a Health and Fitness Centre, heated indoor 25 metre pool, indoor sports stadiums, active studio, tennis courts with membership options available for students, staff and the community. UniSports also offers Learn to Swim programs, group fitness classes, personal training, children's birthday parties, specialised services and facility hire for schools, sporting and community organisations and individual athletes.
Keeping our members COVID safe
In accordance with the Victorian Government, Aquatics & Recreation Victoria and Life Saving Victoria guidelines, the following conditions will apply:
If you are unwell, you must not visit the centre
You must comply with QR scanning via your smart phone for contact tracing
A maximum of 20 patrons are allowed in the pool area at one time
A maximum of 10 patrons per space are allowed in the Health and Fitness Centre at one time
Pre-bookings for all sessions are required, please see below for information on how to do this.
Face masks are to be worn for anyone 12 years and older, unless for lawful exception. You are not required to wear a face mask whilst undertaking strenuous exercise or swimming in the pool, you are however required to carry a face mask so you can wear it before or after.
Social distancing of 1.5 metres must be maintained at all times
A no towel, no visit policy will apply
All gym equipment must be cleaned after use
Change rooms and shower facilities are closed with access to toilets only. Toilets are available on Level 1 for gym users and swimming patrons can access the toilets directly off the pool deck.
Pre-bookings and sessions times
All visitors will be required to pre-book sessions (limited to one session a day) through the FedMoves app which is available for download from the App Store (IPhone) & Play Store (Android). To view the how to book instructional video, please click here. For bookings of multiple people, or for further assistance, please do not hesitate to contact UniSports by email or by phoning 5327 9695. Session times will start on the hour and last for 55 minutes, this will allow minimal crossover of patrons between each session time.
Registering your visit
All visitors are required to report to UniSports staff upon entry. Please scan the QR code readers via your smart phone on entry, UniSports staff will be available if you require assistance.

Entry and exit
Entry to the UniSports pool will be via carpark 4, entry 10 to the university. Please enter the facility directly via the pool deck external doors. Entry to the Health and Fitness Centre will be via carpark 5, entry 9 to the university. Please enter the facility via the tunnel from the carpark to the main entry of the Health and Sports Precinct. Onsite signage will be available to guide you.
Aquatics
With eight lanes heated to 29 degrees, UniSports swimming pool is ideal for both the recreational and lap swimmers. We offer a wide range of aquatic programs including learn to swim classes for people of all ages and abilities.
The UniSports Royal Life Saving Victoria Learn to Swim program is run by AUSTSWIM accredited instructors and is suitable for all swimming levels and ages from as young as 6 months through to adults. Our instructors bring a wealth of experience, skill and enthusiasm to the program, so each student can reach their potential. All students also have complimentary access to the pool throughout their enrolled term.
Find out more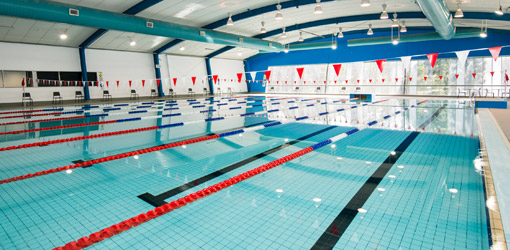 ---