International Student Accommodation Scholarships
What easier way to commence your studies with Federation University Australia than living on-campus with an International Commencing Student Accommodation Scholarship.
We understand that students achieve their best when they feel supported, secure and at home, at FedLiving we offer a range of safe, convenient and affordable living environments on or close to campus where you can make friends, access support and settle into university life.
If you are an international student commencing studies with Federation University, you can apply for the International Commencing Student Accommodation Scholarship.
Registrations are currently available for students commencing in Semester 1 or 2 2020.
Scholarship inclusions
Accommodation fees | Value may vary depending on campus

Ballarat Campus | One semester scholarships
Gippsland Campus | Two semester scholarships
Berwick Campus | One semester scholarships

Free airport transfer Find out more
Fully furnished single bedroom with shared facilities
Utility Costs
Internet Access
24/7 Security and Support
Planned experiences, activities and instant networks
Gym and swim membership | Ballarat Campus only
Scholarship exclusions
A number of fees are not included in your scholarship. Please see our frequently asked questions for further details.
Application Acceptance | $550 payable upon accepting your formal accommodation offer
Accommodation fees | Value may vary depending on campus

Students on academic year accommodation agreements will need to pay accommodation fees outside of their scholarship period

Campus Life Cash Gold Food and Retail Package | Ballarat campus, $2,000 cost = $2,500 value
Find out more
Find answers to some of our frequently asked questions here.
Offer terms, conditions and eligibility criteria apply (pdf, 141kb)
How to Apply
Course Application | Submit your course application
Course Offer | When you receive your offer, look in your offer letter or offer pack for the scholarship information and the link to register your details.
Scholarship Registration | Complete the online scholarship registration via the link in your course offer letter and offer pack
Keep an eye on you email inbox for further details
---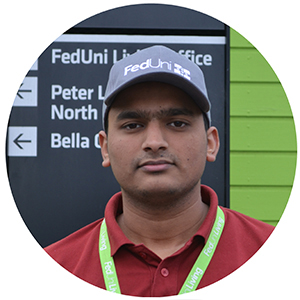 "Before I came to Australia, I was worried about affording the cost of living, but the accommodation scholarship has really allowed me to relax. When I arrived on campus, I found the location was great - it takes only five minutes to walk to classes, and the environment is really natural and fresh. Sometimes, in the mornings, I even see kangaroos!"
-Ankit, Accommodation Scholarship recipient
---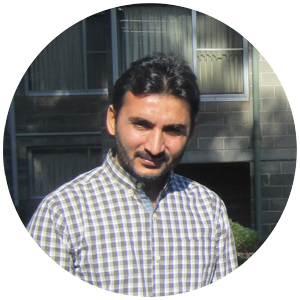 "Living on campus has made my start at FedUni awesome. It has enhanced my learning experience and provided me a chance to make multicultural friends, easy access to numerous resources such gym, library, supervisory team and interaction with other research students for better academic outcomes and many more. Res is my another home in Australia."
-Saleem, Accommodation Scholarship recipient
---
"People helping you like FedUni makes a difference, especially when travelling from another country, it's good to have certainty when you arrive"
- Swayam, Accommodation Scholarship recipient
---