Creating a teaching and learning space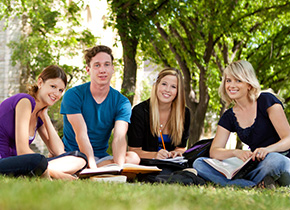 The physical space of a lecture theatre and didactic classroom setting were for a long time seen as the optimal teaching space. Ongoing development and use of technology in teaching means it is now possible to bring much more diverse materials into the physical classroom setting, to bring the classroom materials into off-campus environments, and to create virtual classrooms that can be attended anywhere in the world. There are many interconnected locations and spaces that students finds themselves in when studying, such as private learning areas that are in the home, or informal learning areas such as the library.
Technology has played an important part in how new spaces are formed and utilised. Students are spending less time on campus as they are able to download lectures, use tablet devices, computers, internet, email and mobiles; consequently technology has influenced the student learning space. Building design of educational spaces has seen the creation of open areas, learning pods and digital enhancements. As teachers we need to consider both the physical and virtual learning and teaching spaces and what is required for optimal learning opportunities.
Video resources
Framework for designing future student learning environments
An Australian Learning and Teaching Council Report (2009) noted Scott Morris' metaphors for everyday learning spaces as:
| Campfire | Watering hole | Cave | Mountain top |
| --- | --- | --- | --- |
| A structured space in which students face a teacher and listen to traditional knowledge | An informal space where students can discuss, create and collaborate informally | A private space for independent and reflective work | A space for presenting work to an audience to demonstrate understanding |
Consider these metaphors within various teaching and learning spaces. Does your teaching environment provide learning spaces for each metaphor?
Types
Use
Space description
Possible metaphors
Traditional space
Lectures

A central podium and raked seating

Formal collaborative innovative spaces
Small group work

Flexible furniture that can be easily moved to suit the learning arena

Informal space

Eddy spaces
Social learning

Small spaces for one or two people to use for short periods
Basic seating, perhaps floor based such as a carpeted ledge, or a 'perch'.
Small writing surface, such as a ledge. Indoor and outdoor.
Positioned in 'waste' space, such as corners of buildings, gardens, walkways.
Ideally with some food outlet nearby, such as a coffee cart.
In an online setting this could equate to an online discussion forum or wiki

Private learning space
Home

Student residences

Libraries

Spaces for private group work
Barriers to distractions
Couches or booths
A shared table space, either writing height or coffee table height

Outdoor spaces
Social and informal learning

Shelter from elements and distraction
Comfortable seating
Opportunity to 'spread out'
In an online setting this could equate to an online discussion forum or wiki
Further information and resources